Check out the interesting facts below!
Dean McDermott is a Canadian-American actor best known for his role of Constable Renfield Turnbull on TV series "Due South". He is also known for being the husband of famous actress Tori Spelling.
Here are interesting facts about Dean McDemott:
1. Dean McDermott net worth is estimated to be $500,000.
According to Celebrity Net Worth, Dean McDermott net worth is estimated to be around $500,000. His wife Tori Spelling net worth is also on the same figure. Dean earned majority of his money through his many roles in movies and TV shows.
2. His Movies and Television career
Dean who was born on November 16, 1966 in Ontario started playing in movies and TV shows in late 1980s. His first role in movie was Best Boy in movie "Graveyard Shift II". After that he has done several movies like Straight Line, Bone Daddy, Iron Eagle IV, Stepping Out, Kiss the Bride, The Skulls III, Against the Rope, Touch of Pink, Saving God, Irvine Welsh's Ecstasy and many others.
He has also given short role in numerous Television shows like My Secret Identity, Friday's Curse, Top Cops, Street Legal, Derby, Sodbusters, The Outer Limits, Due South, Fast Track, Power Play, The Wall, Rescue Heroes, Relic Hunter and many more. He has appeared in more than 30 movies and TV production and he is best known for his role of Constable Turnbull on TV series "Due South".
3. He is a professionally trained chef.
Dean is a professional chef. He was cast on the second season of Food Network's "Rachel vs. Guy: Celebrity Cook-off" show and he emerged as the winner being a member of "Team Guy". In 2014, he hosted "Chopped Canada" on Food Network Canada of two seasons. He also released a cookbook "The Gourmet Dad" especially for the kids.
4. He is married twice.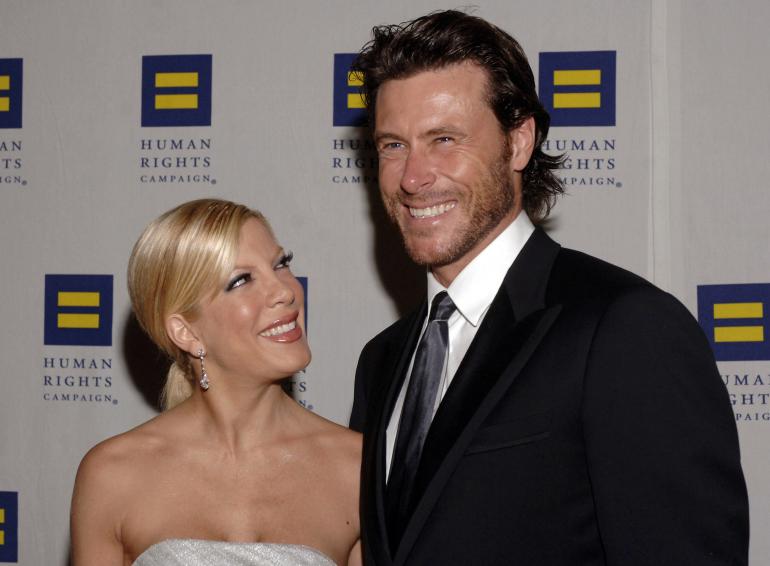 McDermott first married actress Mary Jo Eustace in 1993. Together, they had one son named Jack Montgomery who was born on October 10, 1988. In 2005, he then met actress Tori Spelling on the set of movie "Mind Over Murder". They began an affair the night they met and one year later, he divorced his first wife.
Tori and McDermott tied the knot on May 7, 2006 in Fiji. Together they have five children, three sons named Liam Aaron, Finn Davey and Beau Dean and two daughters named Stella Doreen and Hattie Margaret.
5. His wife Tori Spelling is suffering nervous breakdown after struggling with motherhood.
According to several media outlets, Tori Spelling has reportedly suffered a nervous breakdown after she is struggling to cope with motherhood.
On March 1, 2018 police were called to their home following a 911 call from her husband after she was being aggressive. She wasn't arrested but according to the call obtained by TMZ, she was described as a female with possible mental illness who seemed to have a nervous breakdown.