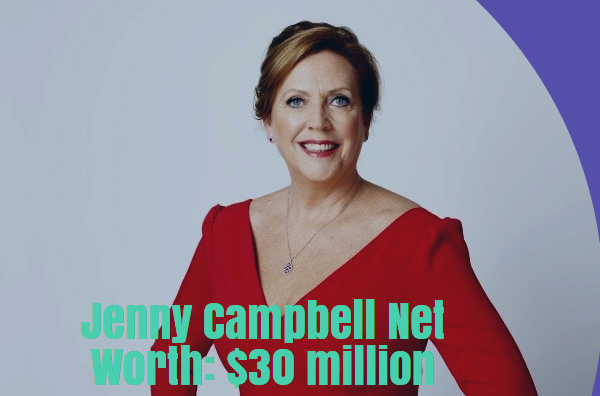 Check out the interesting facts below!
Jenny Campbell is the founder and CEO of Yourcash Europe, an ATM provider working mainly based in Europe spanning more than 5000 ATMs across the European countries.
She is one of the two new dragons for the popular BBC television series called Dragon's Den. Along with Tej Lalvani, she is a new investor for the show which is a top rated program because of the high number of business enthusiasts in the UK. These two are set to replace former dragons Sarah Willingham and Nick Jenkins.
Here are some interesting facts about Jenny Campbell:
1. Jenny Campbell Net Worth is estimated to be $30 million.
As of 2018, Jenny Campbell net worth is estimated to be $30 million. She decided to sell YourCash in 2016 for an amount of $70 million to Euronet Worldwide Inc. She has said that Campbell alone was not the shareholder for the business. She also had to pay off the mortgage for the company.
But, being one of the integrators of the idea, we have estimated her net worth to be $30 million. After all, she is one of the initiators of the idea and definitely had one of the strong voices in making the decision to sell off the company.
2. She left school at the tender age of 16
After finishing school at the age of 16, Campbell already had clarity that she wanted to work in the banking sector. She started to work for Natwest as a cashpoint deplorer.
She was rigorously also studying to get more banking qualifications when it was night. Her story is definitely one of struggle but today she been able to be one of the top dogs in the banking industry which is dominated by her male counterparts.
3. Campbell purchased YourCash in 2010 as part of a group
This was during the times of the financial crisis when most people would not have thought of starting such a risky venture. But, amidst all the agony that was hovering around in the financial world, Campbell saw an opportunity.
When they figured out that YourCash was up for sale, Campbell along with her team pounced on the business. They then developed a master plan to expand the business into all the major places across Europe.
By 2013, they would buy-out 100% of the company and Campbell became a primary stakeholder. The company ended up with 5000 ATMs all across Europe and the business became profitable largely over the years.
4. She is the originator of the motto "live by corporate standards, but breathe like an entrepreneur".
Campbell spent more than 3 decades working in the banking sector, gradually climbing up the ranks for better positions before eventually being the main woman. The motto mentioned above, is the same philosophy that she has applied throughout her life and because of it, she was able to be part of the success of YourCash.
She is also the supporter of the Young Enterprise charity supporting the unfortunate people of this world. She is also associated with Guild of Entrepreneurs and Management where she shares her in-depth knowledge and insight in business for emerging entrepreneurs. She has also been a keynote speaker for Mnagement Today and is also associated with Tomorrow's People.
5. She has won several awards for standing out as a female entrepreneur.
During her journey to success and being a tycoon in terms of business, she has been successful in winning multiple accolades. She has been honored with awards and titles including Vitalise Business Woman of the Year and a Chartered Institute of Bankers prize as well.
She is definitely an inspiration to all the aspiring females who have dreams of making it big as an entrepreneur. It is because of her character and leadership that she is present as a dragon for its latest season.
The concept of Dragon's Den is what makes it so attractive. Entrepreneurs who want an investment from the multi-millionaire dragons only have 3 minutes to pitch their business ideas.
For this season along with Campbell, there will be Tej Lalvani, Deborah Meaden, Peter Jones, and Touker Suleyman. All of these business moguls have made their fortune in a variety of diversified fields.