Check out the interesting facts below!
Kimberly Woodruff is the lovely wife of rapper, actor and filmmaker Ice Cube. The rapper has praised his wife multiple times saying "She's my backbone, I wouldn't be here without her". So who is Kimberly Woodruff. Here are some of the facts about Ice Cube's wife:
Kimberly Woodruff Wiki
Kimberly was born on September 23, 1970 in California, United States. Unlike wives of many other famous celebrities, Kimberly has managed to stay out of mainstream media and at this point we have no exact information on her personal life, parent, childhood life or education. She is also not on social media which means she wants to keep her life private.
Ice Cube and Kimberly Woodruff
Ice Cube and Kimberly first met when she was in college. Although, Ice Cube was very attracted towards her, she didn't show any interest. Probably she was in relationship with the other guy when they first met.
About 6 months later, she was single and Ice Cube once again approached her and that time it was successful. Sharing his story with the media he said:"The first thing I thought I was, 'Wow, she could be your woman. The first time we met, she wasn't feeling me, she was NOT having it. She did not dig me. I think she was in a relationship, so she wasn't having it."
He added: "But I ended up seeing her about six months later, and the next time, we had more time to get to know each other. She could feel my vibe and fell in love your with your boy!"
They started dating in 1988 and after two years they got engaged. The lovely couple tied the knot on April 26, 1992. After their marriage, he said, "I still get the butterflies when I see her. It's a true partnership, I respect my wife and she respects me."
Ice Cube and Kimberly Woodruff's Children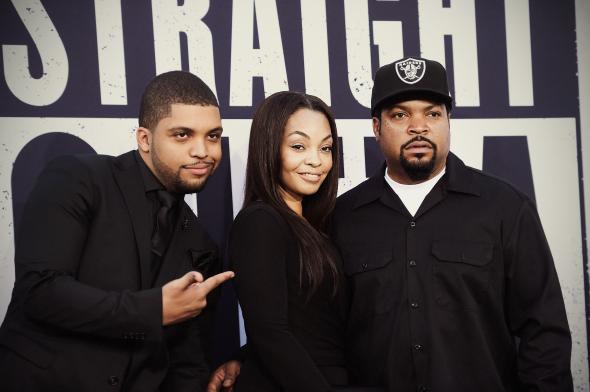 Together they have five children: three sons and two daughters. His oldest son O'Shea Jackson Jr, was born on February 24, 1991. He is also rapper and actor who has appeared in movies and TV shows like Straight Outta Compton, Den of Thieves, Ingrid Goes West and many more.
Their second child Darrell was born on December 29, 1992, third child a daughter named Kareema was born on February 17, 1994, fourth child a son named Shareef Jackson was born on November 27, 1995 while their youngest daughter is Deja Jackson.