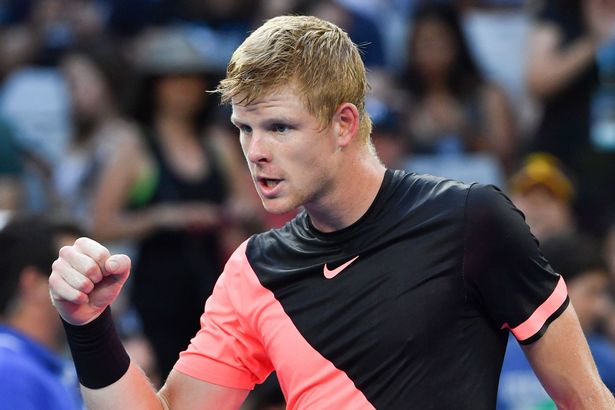 Check out the interesting facts below!
Kyle Edmund is a British tennis player who is ranked on British No.2 behind Andy Murray. Kyle Edmund has moved to semi-finals of Australia open winning against Grigor Dimitrov in a four set thrilling match. So, how much has he earned so far after moving to semifinal and what is his overall net worth. Here are some of the interesting facts about him.
1.Kyle Edmund net worth is estimated to be $2.5 million
According to Metro, Kyle Edmond net worth before the start of Australian Open was £1.5 million or (2.09 million US Dollar). According to data, winner of the Australian Open will received around $4 million AUD, runners-up will receive $2 million AUD and semi-finalists will receive $1.2 million AUD ($958656 USD). We all know Kyle Edmund has already reached semi-finals of the tournament. So, summing up the data Kyle Edmund net worth is minimum $3 million.
2.Kyle Edmund Personal Life
Kyle was born on January 8, 1995 in Johannesburg, South Africa to Steven and Denise Edmund. His father was born in Wales and moved to Zimbabwe as a child while his mother is from South Africa. Edmund then moved to Britain at the age of three and grew in Beverley, East Yorkshire.
Edmund had an interest in sports during his early life and focused on playing cricket and swimming but he later switched to tennis at the age 10. He attended Pocklington School & Beverley Grammar School. At the age of 17, he went to Lawn Tennis Association's National Training Centre.
3.Beginning of the career
He started his junior career in 2011. The same year he reached the semifinals of the US Open boys' singles challenge. He won the Junior Davis Cup tournament and that was the most promising time of his career.
Edmund won his first junior Grand Slam title in 2012 at the boys doubles event of US Open. With his partner, he reached a career high of No. 8 rankings in ITF Junior rankings. The next year, Edmund and his partner Frederico Ferreira Silva won their second Grand Slam Title at French Open.
4.Edmund's senior career
Edmund received his first ATP tour match in June 2013 as a wildcard entrance in London. In the tournament, he defeated Kenny de Schepper but then went out of tournament in next round against Gilles Simon.
In 2014, he got a chance to represent Britain in Davis Cup. He made his Cup debut in 2015 final against David Goffin who was ranked No. 16 at that time. Although he won first two sets against Goffin, he lost the match in an epic five set thriller. In Grand Slam tournament so far, the British player has managed to reach 4th round in 2016 US Open, 2nd Round in 2017 Wimbledon, 3rd Round in 2017 French Open.
5.2018 Australian Open
Through to the third round here in Melbourne, and looking forward to Friday. Thanks for all the messages and support here in Oz and back home. Always try and read as much as I can?#AusOpen pic.twitter.com/FBSrbRWU2X

— Kyle Edmund (@kyle8edmund) January 17, 2018
With Andy Murray out of the tournament due to injury problem, it was time for Kyle Edmund to represent his country on the big stage and he delivered it. Entering in the tournament as a World Number 50, he defeated Kevin Anderson in a five set tie in a first round. In 2nd and 3rd Round he eliminated Istomin and Basilashvili respectively. In 4th Round, he eliminated Seppi coming from a one set down. Kyle then faced Grigor Dimitrov in his quarter-finals and defeated him in four sets to make his first semi-final. His next opposition will be against Marin Cilic.