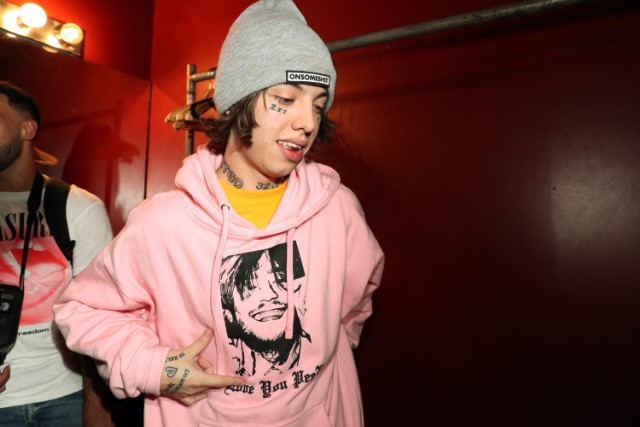 Check out the interesting facts below!
Lil Xan is currently new to hip-hop music but within a year and a half he's starting to get fame throughout the world. The rapper gained mainstream recognition after his hit singles like Betrayed, Been Bout It, Xanarchy, Montana Doe and Slingshot. So after his initial success, how far the rapper can go and what is his exact net worth. Keep reading to find more about his personal life, struggle and how much money Lil Xan currently has.
1. Lil Xan Net Worth is estimated to be around $150,000
As of 2018, Lil Xan net worth is estimated to be around $100,000. Several website on the Internet lists Lil Xan net worth to be $200,000. Considering the facts that he has been rapping for one and half year only and his success through songs like Betrayed, Been Bout It, we also believe his net worth to be somewhat around $100 thousand to $150 thousand. Lil Xan has been able to collect that amount of money through his shows and concerts too. Though, he hasn't gone to tour yet, he has been able to rack some live performances in venues like California, Washington and in Georgia.
c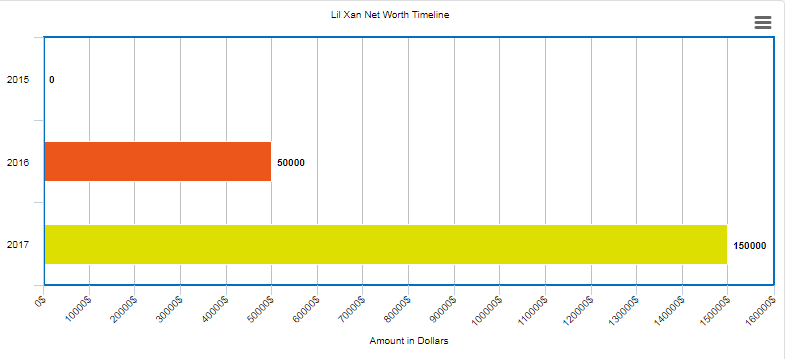 2. Life Before his Musical Career
Diego Leanos is also known by his stage name as Lil Xan or Xan. He was born on September 6, 1996 in Redlands, California. He attended Redlands East Valley High School and was dropped out of high school in his freshman year. To move through his life, he took a job as a street cleaner earning eight dollars an hour. He then pursued a career in photography. After his camera got stolen he chose to begin rapping in lieu of investing in a new camera. Interestingly, he had a choice to pay $1200 for a camera or $20 for a recording session. Growing up in his hometown, he listened to variety of music especially Playboi Carti who he believes as his one of his inspirations.
3. His Addiction to Xanax
Before his career got started, he was addicted to drugs. He first tried Xanax in 2014. At first, he was cautious of taking pills, but once he saw his friends dissolving Xanax in soda, he preferred that way of taking it. He was addicted to Xanas along with opiates and other benzodiazepines but he was able to get rid of that drug after two years of addiction. In an interview with Genius, Lil Xan told:
"I was painfully addicted to Xans for like two years of my life. I was lucky enough to get off that shit". He also added "I definitely learned that lesson after ending up in the hospital from withdrawing, I was doing Norcos, too. I was withdrawing from opiates and Benzos. It landed me in the hospital too many times. And one day, I was just like, 'This ain't fun, I can't live this life.' A lot of rappers don't really be talking about not doing drugs. You know, it's like the opposite way, so it's refreshing, I think."
Now, Lil Xan speaks out against Xanax abuse and helps people to stop using the drug.
4. His Musical Career
Lil Xan first gained prominence through platforms like SoundCloud and YouTube. In September of 2016, he released his first mixtape titled "CITGO". The song "Who Are You" has been streamed over 4.84 million times on SoundCloud. In June of 2017, he released his debut EP titled "Toothache". It consisted of songs like Heartbroke, Betrayed and Pink Roses. Betrayed was huge success and so far it has been viewed over 70 million times on YouTube and has been played over 27 million times on SoundCloud. The song also managed to reach No. 67 on Billboard Hot 100. His popularity is slowly increasing and has decided to release his debut album "Total Xanarchy" in March of 2018.
5. Lil Xan Tattoos
Lil Xan has several tattoos on his body ranging from his face to hands. He first started getting tattoos when he was 18 on his hands. At that time he had a philosophy that tattoos should be seen. Eventually, he then managed to get some tattoos on his neck and face. His face tattoos has a name "Candy" which is actually his mother's name (Candy Leanos) and second tattoos on his face "Zzz" represents his Xanax use.