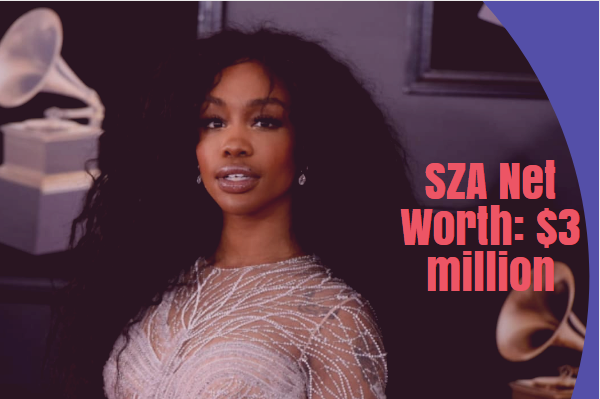 Check out the interesting facts below!
SZA is an American R&B singer and songwriter. After releasing some Ep's with moderate results, she burst into the mainstream with her album "Ctrl". The singer has now collaborated with stars like Rihanna, Maroon 5, and Bryson Tiller in her career and seems to be getting bigger by the day.
With over 3 million followers on her Instagram today, her rise to fame hasn't been easy. But today she is reaping the rewards of her hard work and ability to learn from mistakes. Her are some interesting facts about the singer:
1. SZA has an estimated net worth of $3 million.
As of 2018, SZA net worth is estimated to be $3 million. The success of her debut album "Ctrl" has helped her sell many units of the album. It has resulted in "Ctrl the Tour" across North America. She has also been involved with The Championship Tour of 2018.
SZA net worth has risen significantly in 2017 because of the success of her album and the fan following that she has developed tremendously by leveraging social media platforms. For someone who's professional career that started just 5 years ago, she is doing very well.
2. She was a top gymnast in school.
Her real name is Solana Imani Rowe and was born on November 8, 1989, in Saint Louis, Missouri. She was raised in New Jersey from parents holding executive jobs.
She completed high school from Columbus High School where she was very active in sports, primarily practicing gymnastics. During that time, she was ranked among the top gymnasts of her age throughout the U.S.
Because of the terrorist attacks that occurred in the U.S. and her background as a muslim, she mentioned how she was subject to discrimination and bullying through her school-life.
Even though she was studying liberal arts at Essex County College, she decided to drop out for better options in life.
3. The name SZA came from the influence of rapper RZA
When asked in an interview, SZA mentioned that her current moniker was actually from the influence of a rapper named RZA that she was following. She went on to mention how the Z refers to "Zig-Zag" whilst the A refers to "Allah". The front S though can refer either to Savior or Sovereign in her own words.
Growing up she was heavily influenced by artists namely Ella Fitzgerald and Lauryn Hill. Since she grew up in the environment of the American Ballet Theatre, she had also mentioned her affection for Jamiroquai.
4. She started her career with the EP See.SZA.Run
Her career in music officially started in 2012 when she released her debut Extended Play See.SZA.Run independently. This was only a start for SZA and she went through a steep learning curve to know the kind of music she wanted to produce.
She then went on to release her second EP the next year titled "S". Even though her audience was small compared to today, it helped her gain the experience and the exposure needed. In 2013, she was signed by Top Dawg and gained more exposure through live performances.
Then the very next year, she was to produce her first studio EP titled "Z". Slowly but surely she was getting her name out to the music world through collaborations with rappers like 50 Cent and Chance The Rapper. The album eventually peaked at number nine on the Billboard Hip-hop chart.
5. The release of "Ctrl" in 2017 would become her big-breakthrough.
She had a very successful year of collaborations and some of her songs started to shine in the mainstream as well. She started working on high-profile collaborations with stars like Beyonce and Rihanna. She helped writing Rihanna's song "Consideration" which was a big hit.
2017 would be the biggest year of her career. She announced that her debut album titled "Ctrl" would be launched. The album would become a global phenomenon which had attracted her signing with RCA Records before.
Ctrl would go on to be ranked as the best album of the year by Time Magazine. The album was such a major hit because it included very successful promotional singles like "Love Galore" and Drew Barrymore". This has opened many doors for SZA who even got 5 Grammy nominations which was the most for any female artist.