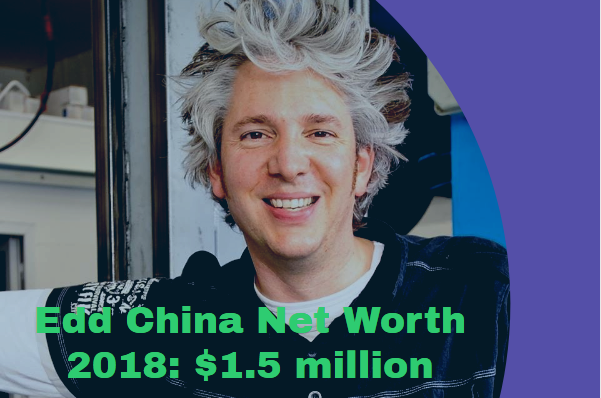 Check out the interesting facts below!
Edward John China, who has made his name as Edd China is an English television presenter and mechanic. He has put his skills as a mechanic to optimum use as he has appeared for a number of years as co-presenter in the television show Wheeler Dealers which airs on Discovery Channel.
The famed mechanic recently decided to leave the show which has left many of his loyal fans curious and a bit furious at the same time.
Here are some interesting facts about Edd China:
1.Edd China Net Worth is estimated to be $1.5 million
As of 2018, Edd China net worth is estimated to be around $1.5 million. There is no doubt that Edd China has made the majority of his money through his involvement as one of the main stars of Wheeler Dealers. During its peak time, it aired in over 220 territories and had millions of viewers on its episodes. Because of its rise, Edd also appeared in similar shows like Top Gear, Scrapheap Challenge, and Fifth Gear with cameo appearances.
His popularity as a mechanic has also helped him to land endorsements. Among his many sponsors are Lubricating experts XCP who Edd has partnered with in his posts. As of right now, it doesn't look as if Edd is going to be a presenter in another show anytime soon. He is focused on building his own companies and looks to be enjoying his new found businesses.
2.His first creation was a driving sofa
Edd has been involved in anything related to mechanics from a very young age. After completing his high school from King Edward's School, he went on to pursue an engineering product design degree at London South Bank University.
During his time at the University, he started to implement the ideas that he held in his mind. One of the very first creations that Edd created was a driving sofa that he named as "Casual Lofa". It was also built for a great cause as it helped to raise essential funding for a Raleigh International project to Belize. The creation would eventually help him appear in different shows with a guest appearance.
3.Edd currently runs two companies
Edd China currently holds the title of managing director for two companies, namely Grease Junkie and Cummfy Banana Ltd. His popularity has built a great personal brand which Edd and his team has managed to monetize very efficiently.
Grease Junkie currently sells merchandise including some essential tools and accessories for anyone interested in mechanics. This has been a brand that Edd has been the most focused on and has already started reaping rewards.
Edd has also partnered with a PR agency called Pure agency in order to get his companies managed and work on the branding and content creation aspects of his company.
4.He holds multiple Guinness World Records.
His company Cummfy Banana Ltd has actually been made with a purpose for his world record attempts and the number of unique creations that he comes up with.
The idea has been a big success as his outrageous attempts have won him titles for several records including fastest toilet, bed, shed , and the largest motorized shopping trolley. This has been a form of marketing for his endevours as well as it gets his name out to the audience very effectively.
5.Edd left Wheeler Dealers because of disagreements with the production team.
The name Edd China has been built over a span of more than 13 years as a co-presenter for Wheeler Dealers. The other presenter was Mike Brewer and together they had great chemistry in the workshop.
According to Edd, the show was so popular and engaging towards a large audience because of the complicated internal workings of different motors that Edd showcased in the show. Such detailed coverage of his work was Edd's favorite part as well as that of many of their audience.
Apparently, the production company, Velocity wanted to take the show at a different direction meaning they wanted to cut short Edd's detailed presentations. The production team had to spend large amount of time and resources for such scenes which they wanted to reduce dramatically. This was a big mismatch in thoughts between the two sides and eventually Edd ran out of motivation for a theme he was not ready to accept.